News Items
We mourn the death of Albert Reyerman,
member of the German Lute Society and widely recognised and respected in the lute world as publisher of the TREE edition. He passed away on 10 December at the age of 76.
As an amateur lutenist and trained reproduction photographer, Albert Reyerman came into contact with research into original manuscripts in the late 1970s. Shortly afterwards, he founded the joint publishing house TREE-Edition with the lutenist Stefan Lundgren, which he later continued to run on his own.
His project encompassed more than simply the production of facsimile prints. The publisher sought and found numerous renowned lutenists and musicologists as editors. In his memoirs*, he explicitly emphasises their valuable contributions to the communication of historical and musical contexts and modestly places his own role in the background.
In the course of 40 years, an extensive publishing life's work has thus been created that occupies an outstanding place in the lute world. It has given many lutenists access to a broad repertoire. And quite a few players testify to having found a deeper understanding of lute music through his editions.
Albert Reyerman is gone - his work will remain.
_______________________________________________
*Albert Reyerman's autobiographical memoirs were published last November by the Dutch Lute Society. With their kind permission, they also appear in our members' magazine Lauten-Info. You can read these memoirs here.
---
Current news
Our former member, co-founder and first treasurer of the German Lute Society, Matthias Wagner, lute maker from Badenweiler, passed away on the 26th September. He is known not only to many members of the Lute Society, but also as the proprietor of the string distributor www.music-strings.de that he founded.
Caroline Zillmann and Stefan Milbradt have informed us that they have taken over this distribution business. The transfer was already complete at the time Matthias' death was announced. According to the two new proprietors, he contacted them shortly after Whitsun to ask whether they could consider taking over this business. Following a short reflection, they gave their assent, and at the end of August, following a short break for technical reasons, it was possible to order again via the familiar website www.music-strings.de. 'For us the change-over turned out to the more difficult than we thought it would be, since the administration of a web-shop and the work with a merchandise management programme was completely new territory for us. Matthias has supported us unconditionally, and in training us has given us assistance and tips from his wealth of experience. His death has affected us deeply.'
---
Pegasus and the Unicorn to take wing… Lutemakers on the move
Most readers of this newsletter will be familiar with luthiers Stephen Barber and Sandi Harris, and many will have visited their London workshop at 11a Peacock Yard, one of the most picturesque and iconic addresses in the lute world. It is 40 years since Stephen set up shop there, and he was joined by Sandi in 1984, so together they have clocked up more than three-quarters of a century of lute making in this space, and many hundreds of instruments bear their Pegasus and Unicorn brands. I shared their flat for two years whilst I was studying at the Royal College of Music, and their generosity to me when I was a penniless student knew no bounds. Having access to an ever-changing succession of instruments spanning the entire early plucked instrument spectrum was an additional benefit, which has shaped my whole career. In the 1990s, when I began a Ph.D studying surviving continuo lutes, I realised how heavily I was drawing on knowledge learned from them - distinguishing ivory from bone, identifying different timbers, using their effective and non-invasive ways of measuring and photographing those instruments… My academic work as well as my performing career reflected Stephen's and Sandi's influence.
In those days their productivity was legendary. They worked seemingly 24/7, and I would frequently pop into the workshop one day and see the beginnings of a lute back being constructed, and then be invited to help string it up mere days later. They were familiar faces at most of the big Continental early music exhibitions - indeed, it was at the 1986 Utrecht lute symposium and exhibition that I first met them - and a steady stream of lutenists from around the world passed through their workshop and stayed in their flat. Their car would regularly be loaded to the roof with a display of beautiful instruments and driven across Europe. On one memorable occasion, the last pre-exhibition order was completed 3 or 4 days before they were due to travel. I forget which of them said 'we've got time to build a 6 course before we go…' but so it proved. They would regularly return to the flat for a late dinner, only to nip back to the workshop at a silly hour to apply another coat of varnish. Overnight drying time was a commodity not to be wasted…
Overseas trips often included visits to the major musical instrument collections of Europe, and together they measured, photographed and drew plans for dozens of lutes, theorbos and early guitars. Some of these plans are published, and have provided a valuable resource for other luthiers for decades. Part of this research and many instrument images can be found on their gloriously illustrated website www.lutesandguitars.co.uk. Another ground-breaking aspect of their work has been the extraordinary array of unusual timbers used in their own instruments. I would frequently drop in to the workshop and find small wood samples laid out, to test the visual effect of combining colourful and/or highly-figured woods. Following the 1987 hurricane which devastated trees across southern England, they were invited by Kew Gardens to rescue and use timber from some of their rare and exotic species felled by the storm, and specimens like Osage Orange joined the wood supply.
The workshop itself was - and still is - an extraordinary space, located in a 19th century purpose-built yard of similar units. It is packed to the roof with timber, lute and guitar moulds line the walls, racks of plans are suspended from the ceiling, and ingeniously-made tool holders are crammed into every tiny crevice. A corner office houses research materials and thousands of instrument photographs taken over decades. As befits the workplace of two larger-than-life personalities, there are many details which raise a smile - or an uncontrollable guffaw of laughter. Cartoons and hilarious photographs adorn every surface, even the bandsaw. A string packet, decades old and which arrived from the string maker mysteriously inscribed 'poor twang', is pinned to a notice board. In the middle of the floor sits a large cage, and its occupant - a rabbit - routinely roams freely underfoot. Hundreds of small glass jars filled with wood shavings, many of them candy-striped and improbably colourful, document the assortment of woods used over the years.
I have written much of the above in the past tense because Stephen is sadly now afflicted with Multiple System Atrophy, and both he and Sandi are battling with the devastating effects of his illness. They are planning an urgently needed relocation to a wheelchair-accessible space with an in-house workshop, which will enable Sandi to resume work with Stephen alongside her. Although now unable to work, he remains as passionate and knowledgeable about lute building as ever, and his input will continue to be fundamental to their instruments. As Stephen's health declined over recent years, they were also battling traumatic events including the loss of Sandi's father, a fire in their workshop, and a protracted quest for a diagnosis for Stephen's condition. As some readers will be aware, this has impacted on their instrument orders and delivery, and getting lute production back on track will be Sandi's priority following relocation. To help them with the significant costs and challenges of this situation, I am setting up a curated YouTube channel which will host a variety of lute-related material. The channel's name will be the iconic address of their workshop, 11a Peacock Yard. New material will be posted regularly, and the channel will be linked to a donation site, all moneys raised to go directly to Stephen and Sandi. In this way, as a significant new lute resource of performances, interviews and mini-documentaries is built up, the old workshop address will retain its currency in the lute world, as have some historic lute addresses - 'Rauche in Chandos Street', 'Alla Corona in Venezia'… Early postings will include performances by Nigel North and Jakob Lindberg, and an interview with Dame Emma Kirkby.
Anyone wishing to discuss or contribute material for the YouTube channel, or to make donations to the project, is requested to contact me via my website www.theorbo.com in the first instance. As soon as the channel and donation site go live (hopefully during early August), this information will be distributed by the usual means.
Lynda Sayce
---
Festival Lübecker Lauten Lust
International Festival of the Lute, German Lute Society
7 to 16 June
Early Music in Gender-Equitable Performance Practice
Until the 19th century, musical tradition was largely determined by male selection criteria. Although music-making and composing women were not lacking in music history, recognition in the concert and festival world as well as in musicology was lacking for a long time.
Since the end of the 20th century, a rethink has taken place to end the still existing inequality. In 2018, for example, a total of 45 festivals and 100 conferences joined the "Initiative Keychange", in which they pledged to work towards a 50/50 distribution by 2022.
The Festival Lübecker Lauten Lust / Internationales Festival der Laute has already taken this path this year and has set its sights on a programme in which musicians and composers participate equally in the concerts.
The Argentinian Evangelina Mascardi and the Bosnian Edin Karamazov were invited as soloists. Evangelina Mascardi presents the greatest works for the Spanish Vihuela and Edin Karamazov, Arciliuto, presents cello suites by Bach as well as the sonata by Leo Brouwer dedicated to him. As "Luteduo" Anna Kowalska and Anton Birulla will perform works by Bach on two baroque lutes.
On two vocal evenings there will be a female duo with Evmorfia Metaxaki, soprano and Helena Raposo, theorbo, as well as the mixed ensemble "Capella Ostinato" with Zsuzsa Bereznai, soprano, Lidwina Wurth, mezzo-soprano, Ulf Dressler and Ralph Lange, both lutes and baroque guitars.
Unfortunately, relatively few compositions by women from the Renaissance and Baroque periods have survived, so the festival cannot offer a balance here. It is precisely for this reason that two female and two male composers were engaged for an experimental composition project. The Danish composer Hanne Tofte Jespersen and Katharina Roth, who lives in Graz, as well as the Danish composer Kuno Kyaerbye and Arnold Nevolovitsch, who lives in Lübeck, compose music for a Broken Consort Ensemble. The Broken Consort will play a theorbo, a viola da gamba, a violin and a zinc. Three women, Nuria Sanromà Gabis, Zink, Heidi Gröger, Viola da Gamba, and Emmanuelle Bernard, violin and a man with Andreas Arend, Theorbe, will play in the performing ensemble.
As part of a project with children from Moisling, a musical journey will be undertaken to a text by Cornelia Hampel spoken by Christian Glockzin and a choreography by Ulla Benninghoven. The primary school children from the Heinrich-Mann-Schule play together with a professional ensemble on children's lutes and recorders.
The Festival Lübecker Lauten Lust also aims to strengthen cooperation with the Scandinavian countries. Therefore two of the leading composers from Denmark, Hanne Tofte Jespersen and Kuno Kyaerbye, were invited for the composition project. The lute maker Lars Torresson is expected from Norway as a lute exhibitor. At the lute exhibition accompanying the festival, an Italian lute maker, Barbara Ferloni, will also be presenting instruments.
The festival makers simply had the feeling that 2019 was the perfect moment to bring women and men on stage with equal rights. If you want to attract the best musicians and composers to Lübeck for an Early Music Festival, gender justice will come naturally.
The festival is supported by the Possehl Foundation, the Ministry of Education, Science and Culture of Schleswig-Holstein, the Danish Arts Foundation, Koda Kultur from Denmark and the Rotary Club Lübeck-Holstentor.
The Festival Lübeck Lauten Lust in cooperation with
International Festival of the Lute, German Lute Society
program
Fri 14.6. / 18 o'clock
Large hall, Gesellschaftshaus der Gemeinnützigen
A Singspiel by children for children and adults by Cornelia Hampel
Musical direction: Tim Stekkelies
Text: Cornelia Jumping Jack
Choreography: Ulla Benninghoven
Lute: Ulf Dressler, Lukas Oppermann, Ralph Lange
Gamba: Robert Müntz
Speaker: Ludwig-Christian Glockzin

Fri 14.6. / 18 o'clock
Kantoreiheim
Lute Workshop "Chest of Lutes" with Lukas Henning

Fr. 7.6. / 19.30 o'clock
Audience hall in the historical town hall
Capella Ostinato
- Zsuzsa Bereznai, soprano
- Lidwina Wurth, mezzo-soprano
- Ulf Dressler, Lutes, Theorbo & Baroque Guitar
- Ralph Lange, Lutes & Baroque Guitar

Fri 14.6. / 20 o'clock
Large hall, Gesellschaftshaus der Gemeinnützigen
Edin Karamazov, Arciliuto
After the concert you meet at the "Schiffergesellschaft", Breite Straße 2.

Sat 15.6. / 10 to 12.30 o'clock
Bildersaal, Gesellschaftshaus der Gemeinnützigen
Annual General Meeting of the German Lautengesellschaft e.V. (public)

Sa 15.6. / 10 to 13 and 14 to 18 o'clock
Kantoreiheim
Lute Workshop "Chest of Lutes" with Lukas Henning

Sat 15.6. / 10 to 18 o'clock
Exhibition with instrument makers and publishers. On display are instruments, strings, sheet music, sound carriers and books.

Sat 15.6. / 14 to 17 o'clock
Bildersaal, Gesellschaftshaus der Gemeinnützigen
lectures
14.00 Children and the Lute, Ralph Lange
14.45 Presentation and information - two new textbooks for lute: Beate Dittmann - Lautenschule für Kinder, Peter Croton - Lautenschule für Jugendliche und Erwachsene
15:30 Lute instruments in picture and sound - Gennady Kutsnetsov
16.15 Elias Reusen - News from the research on this lute virtuoso, Markus Lutz
17.00 The Portrait of an Unknown Loudest around 1570 in the Annenmuseuum in Lübeck, Markus Lutz; Moderation: Peter Kiraly & Markus Lutz

Sat 8.6. / 19.30 o'clock
Audience hall in the historical town hall
Evmorfia Metaxaki, Soprano
Helena Raposo, Theorbo

Sat 15.6. / 19.30 o'clock
Large hall, Gesellschaftshaus der Gemeinnützigen
Evangelina Mascardi, Vihuela

Sat 15.6. / 21.30 o'clock
Large hall, Gesellschaftshaus der Gemeinnützigen
LuteDuo, Anna Kowalska & Anton Birula

Sun 16.6. / 10 to 12 o'clock
Kantoreiheim
Lute Workshop "Chest of Lutes" with Lukas Henning

So 4:6 p.m. 11 p.m.
Hafenschuppen C, northern Wallhalbinsel
Broken Consort Ensemble
World premieres of works by the composers Hanne Tofte Jespersen, Kuno Kyaerbye, Arnold Nevolovitsch
- Andreas Evening, Theorbe
- Núria Sanromà Gabàs, zinc
- Emmanuelle Bernard, violin
- Heidi Gröger, Viola da Gamba

So 4:6 p.m. / 12:30 p.m.
Hafenschuppen C, northern Wallhalbinsel
Final concert of the lute workshop "Chest of Lutes" conducted by Lukas Henning

Tickets at all advance booking offices and under
shop.luebeck-ticket.de
Festival management: Oliver Holzenburg & Ralph Lange
---
Neue Edition der Lautengesellschaft
Ingo Negwer
BACH und die LAUTE
Eine quellenkritische Studie zur Solomusik für Laute von Johann Sebastian Bach
Deutsche Lautengesellschaft, Frankfurt a.M. 2018
ISBN 978-3-934069-08-4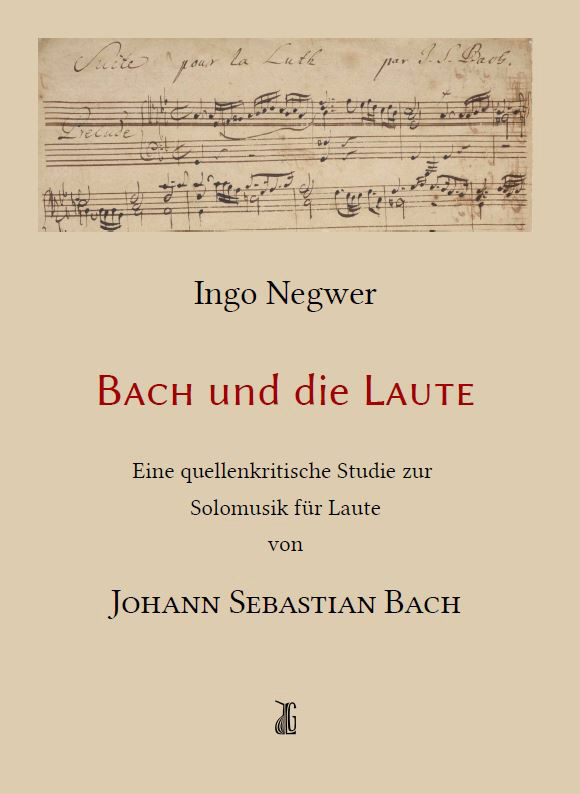 Johann Sebastian Bach gilt neben Silvius Leopold Weiss als bedeutendster Schöpfer von Lautenmusik im 18. Jahrhundert. Doch welche seiner Werke (BWV 995-1000, 1006 a) sind von ihm wirklich für die Laute geschaffen?
Bach und die Laute nähert sich der Frage nach der vom Komponisten vorgesehenen Besetzung aus einer konsequenten musikhistorischen Perspektive. Welche Kompositionen wurden eindeutig für die Laute geschrieben? Welche wurden von fremder Hand und möglicherweise nachträglich der Laute zugewiesen? Wo lassen die überlieferten Quellen die Frage nach der ursprünglich intendierten Besetzung grundsätzlich offen?
Ingo Negwer möchte mit seinem Buch den an Bachs Kammermusik Interessierten neue Einblicke in einen kleinen Teil dieses großen Oeuvres geben.
Vertrieb durch SEICENTO-NOTENVERSAND, Holbeinstrasse 12, D-79312 Emmendingen, seicentomusic@arcor.de.
---
Utrecht International Lute Festival 2018
Dutch Lute Society and Utrecht Early Music festival
Dear Lute friends, Lute Societies,
In August I have e-mailed you about the International Lute Festival and Symposium that will take place in 2018, starting Friday August 31- until September 2, as part of the Utrecht Early Music Festival (24 Aug-2 Sep).
In order to apply for the necessary funding, we need to be able to present a more or less detailed program. We have to make this application in October. I therefore invite you to let me know at short notice if you intend to participate in this festival and what your contribution will be. Below you find the outlines of the program.
Symposium
The Symposium (duration probably one day) will be part of the main Early Music Festival. Therefore the theme of the symposium "The development of the Lute and its music in Burgundian times"connects to the main Festival theme: "The Burgundian Lifestyle". We will look at influences on lute tablatures, instruments, intabulations etc.
Strings!
A discussion, with presentations, between string makers, lute makers and -players about the developments in both gut- and synthetic string making and what this means for the lute maker and -player regarding sound and technique.
Concerts, lessons, presentations, sales exhibition
The Lute Festival will include concerts organized by the Utrecht Early Music Festival, beside the concerts that we organize in Lute.
Festival.
We will also organize master classes, and hope to be able to organize a few workshops, for instance in improvisation, or early lute duets.
We also hope that the European Lute Orchestra will be able to join us in Utrecht.
During the Lute Festival, there will be the usual Early Music sales exhibition, where lute makers, publishers and Lute Societies can present themselves.
Contributions
We would like to invite you to contribute to the Lute Festival in the form of a concert ( of about 45 minutes), a workshop, lecture, presentation, or anything else that you think is interesting for the Festival. It would be nice if the theme of the festival could be seen as a guideline, but other contributions are also welcome! It is our intention to compensate for part of the travel expenses and free accommodation for two nights for two or three representatives per Society.
As explained at the beginning of this e-mail, we have to make an application for subsidy, in order to be able to pay for the Festival. Without this extra funding we cannot organize the festival as we would like. The application has to be made in October. For that it is necessary to present a detailed program along with the application. The details must include names of the participants and title of the contribution. At this moment the information is only needed for the application. If at a later stage changes have to be made, this of course is possible, as long as your choice of contribution stays more or less the same. Suggestions or questions can be send to Ciska Mertens (address below)
We are looking forward to your reply and hope that many of you will be able to join us in Utrecht in 2018!
Best wishes to all of you,

Ciska Mertens
Nederlandse Luitvereniging/ Dutch Lute Society
voorzitter@nederlandseluitvereniging.nl
or
cmertens@worldmail.nl
---
Historische Instrumente für Kinder - Early Music Birds
Im Rahmen des Wettbewerbs "Bündnisse für Bildung / Kultur macht Stark" konnte die Lübecker Musikschule über 10.000 € an Bundesmitteln für das Projekt "Early Music Birds" nach Lübeck-Moisling holen. Die Instrumente für das Projekt wurden mit Unterstützung der Kroeger von Ludewiger Stiftung und Ingeborg Sommer Stiftung in Höhe von über 7.000 € angeschafft. Diese werden zum Teil extra für das Projekt gebaut. Über ein Jahr werden die Kinder Musik der Renaissance, des Frühbarock aber auch aktuelle Musik auf diesen Instrumenten spielen. Sie werden dabei von Profimusikern und Musikpädagogen unterstützt.
Projektbeginn – vorläufiges Projektende
August 2014 – Juli 2015
(Mai 2017: Das Projekt gibt es noch)
Wöchentliche Proben und zusätzliche Aufführungen
Projektort
Heinrich-Mann-Schule Moisling
Ausführliche Beschreibung
Die musikalische Lebenswelt vieler Kinder in den sozialen Brennpunkten wird in der Regel durch einen passiven Musikkonsum bestimmt. Durch ihre Hörgewohnheiten sind sie vielfach geprägt in Richtung computergenerierter synthetischer und angloamerikanisch angehauchter Pop- und Hip-Hop-Musik.
Das Projekt "Early Music Birds" ermöglicht Kindern der Heinrich-Mann-Schule das aktive Musizieren auf historischen Instrumenten. Unter Anleitung erfahrener Dozenten musizieren sie auf Renaissancelauten und historischen Percussionsinstrumenten Lieder der Renaissance, aber auch aktuelle Musik ihrer Lebenswelt. Sie erfahren dabei den Zauber einer Klangkultur, die auf ein eher zartes und liebliches, gleichwohl natürliches Klangbild ausgerichtet ist. Sie werden damit auch für leise Töne sensibilisiert. Darüber hinaus markiert die Musik der Renaissance einen interessanten Ausgangspunkt musikalischer Aktivität, da ihre musikalische Struktur als Basis sowohl für "Klassische" wie auch für "Populäre" Musik angesehen werden kann.
Bei diesem Projekt kooperiert die Lübecker Musikschule mit Heinrich-Mann-Schule, der Hochschule der Künste Bremen sowie dem Förderverein für Lübecker Kinder. Das Projekt enthält eine starke musikpädagogische Unterstützung durch eine intensive Auseinandersetzung mit elementarmusikpädagogischen Methoden.
Dozenten:
Hugo de Rodas, Renaissancelauten
Roman Schlonski, historische Percussionsinstrumente
Prof. Marno Schulze, Gesang und Bewegung
Prof. Barbara Dr. Stiller, Elementare Musikpädagogik
Simona Umarov, Renaissancelauten
Projektleitung und Kontakt:
Ralph Lange
Tel. 0451-71332 oder lange@luebecker-musikschule.de
Kooperationspartner:
Hochschule der Künste Bremen
Förderverein für Lübecker Kinder e.V.
Heinrich-Mann-Schule Lübeck
Förderer: Bundesministerium für Bildung und Forschung, Bündnisse für Bildung
Kroeger von Ludewiger Stiftung
Ingeborg Sommer Stiftung
Hier der Link zur
Seite der Musikschule Lübeck
.
---
21.5.2014
ALBUS - eine Oper über S. L. Weiss
Komponist: Stefan Olof Lundgren
Libretto: Frank Legl

Der Konzertmitschnitt und Bilddokumentationen der Proben und Aufführungen in Dresden und Füssen (2005) sind jetzt online zu hören und zu sehen!
Dazu
hier
klicken.
---
CD-Besprechung
Wolfgang Adam Anton Hoffer: " La belle Indifferente"
(vor 1707-1757)
Michael Dücker-Barocklaute
NCA New Classical Adventure (Order No. 60256)
Deutschlandfunk LC 12281
Repertoire:
Echte Neuentdeckung. Soweit bekannt, stellt diese CD die erste Aufnahme mit Lautenmusik Hoffers dar. Es handelt sich um vier Suiten berückender Schönheit und enormer Virtuosität.
Klang:
Technisch ausgezeichnet. Der bisweilen wahrzunehmende Hall ist wohl gewollt, stört also nicht, wenn man die Absicht ahnt. Der Künstler kommt auf seiner 13-chörigen Barocklaute von Hendrik Hasenfuss und ihren lang klingenden Bässen gut zurecht, indem er sich an die Regel hält, so lange liegen lassen, wie es gut klingt. Das Ergebnis ist der bisweilen anzutreffenden Methode vorzuziehen, bei der der Bass sofort nach dem Anschlag abgedämpft wird.
Interpretatorische Umsetzung:
Die vier Suiten stellen hohe Anforderungen an den Künstler, die in außerordentlich beeindruckender Weise erfüllt werden. Booklet:
Deutsch und englisch
Sowohl der Komponist wie auch der Künstler werden in der gebotenen Kürze aber in ausreichender Länge in Leben und Wirken beschrieben. Der Komponist wird in drei Quellen nachgewiesen. MGG kennt ihn nicht, obwohl schon Pohlmann den Artikel von Hans Radke zitiert… Ein Szenario "Der Überfall" von Horst-Dieter Radke beschreibt kurz in kleiner erfundener aber entzückender Räuberpistole den Wechsel Hoffers von Wien nach Mainz. Es ist zu vermuten, dass wir mehr über ihn wüssten, wäre er in Wien geblieben; seine Musik gehört zu den wertvollen Lautenkompositionen des 18. Jahrhunderts (H. Radke).
Persönliches Urteil
Sehr empfehlenswert. Die Musik kann sich neben der Kellners, Conradis, ja sogar Weiß durchaus hören lassen. Man wünscht sich mehr Soloaufnahmen von Michael Dücker! Die CD gehört in die Sammlung eines jeden Musikliebhabers, nicht nur eines Lautenisten!
Werner Faust
---
Rochus Berhandtzky (c. 1660 - ?) - A lutenist at the Bavarian court
Dear Lute Friends,
Over the last few days I have released six 'dilettante' recordings with pieces originally composed for baroque lute by Rochus C. Berhandtzky.
According to my knowledge, this lutenist and composer Rochus Behandtky (c. 1660 - ?) is widely unknown and has not been realised as major lutenist figure of the 2nd half of 17th century in southern Germany (Bavaria). His lute pieces survived in manuscripts in Kremsmünster (MS L83a) and Vienna (MS 7763/92) (both Austria).
I have prepared a short VC of Mr. Berhandtzky for you orientation:
Introducing: Rochus Berhandtzky (c. 1660 - ?) - A lutenist at the Bavarian court: Rochus Berhandtzky was born around 1660 in "Schwalbach", however the exact location of this village somewhere in Germany has not been confirmed so far. On 1 September 1682 he became lutenist at the Bavarian Court in Munich. At this time he was already married and father of children. His announcement as "Court Lutenist" followed shortly after he played in front of Maximilian II Emanuel, Elector of Bavaria (1662 - 1726). He started his carrier with an annual salary of 100 fl (Gulden); by 1686 his salary increased to 400 fl p.a. From 1686 onwards Berhandtzky names himself as "Camer Lauttenist" (Chamber lutenist).
In 1686 Rochus Berhantzky followed Maximilian II Emanuel to Austria and Hungary. The royal entourage of the Elector of Bavaria from Munich to Austria and Hungary included 797 persons and 1044 horses and nearly 100 carriages. Prominent members of this voyage were the military commander General Johann Karl Count of Sereni and Marquis de St. Maurisse, both later honoured by Berhandtzky with a Tombeau. The military commander General Johann Karl Count of Sereni was born in 1640 and entered into the Bavarian army in 1664. He managed a significant carrier and became one of the most senior Bavarian military commanders by 1683. He died in 1691 in Munich after serving his country and the Holy Roman Empire in numerous fights in Europe. Due to financial shortage of Bavaria, Ruchus Berhandtzky was released from the Bavarian Court in 1689 but shortly after reintroduced to the Bavarian Court in 1690. In 1692 he amounted significant private debt and was again released from the Court.
From 1692, traces of Rochus Berhantzky became lost. One of his daughters became a servant of Eleanore Maria of Austria (1653 - 1697) at the Royal Court in Innsbruck (Tirol). Eventually, Berhandtzky followed his daughter - but we do not know for sure. At the zenith of his carrier as lutenist at the Bavarian Court, Rochus Berhantzky cared for a household of nine persons including his wife, children, parents and servants. Part of his lute compositions survived in hand-written manuscripts in Vienna and Kremsmünster (Austria).
According to my information / recherché following pieces survived in Austrian manuscripts:
1. Prelude de R. Berhandtzky / d-moll / A-Wgm7763-92 / 2v
2. Allemande de R. Berhandtzky / d-moll / A-Wgm7763-92 / 6v
3. Courante de R. Berhandtzky / d-moll / A-Wgm7763-92 / 7v
4. Sarabande de R. Berhandtzky / d-moll / A-Wgm7763-92 / 8v
5. Sarabande de R. Berhandtzky / d-moll / A-Wgm7763-92 / 9v
6. Gavotte de R. Berhandtzky / d-moll / A-Wgm7763-92 / 10v
7. La funeste et Glorieux Tombeau de Mon(sei)g(neu)r le Marquis de St. Maurisse. Gigue de R. Berhandzky / a-moll / A-KR83a / 42v
8. Tombeau du feu son E. Monsgr le General Sereni Allemande de R. Berhandski / f-moll / A-KR83a / 47v
9. Courente de R. Berhandski nomée la noble pensée / f-moll / A-KR83a / 48v
10. Sarab(ande) / f-moll / A-KR83a / 49v
11. Gavotte / f-moll / A-KR83a / 50r
12. Gigue / f-moll / A-KR83a / 50v
13. Rondeau / f-moll / A-KR83a / 51r
14. Le Tombeau de feu Madame la Daufine Allemande de R. Berhandzki / c-moll / A-KR83a / 51v
15. Cour(ante) / F-Dur /A-KR83a / 53v
16. Men(uet) / F-Dur / A-KR83a / 54r
17. Sarab(ande) / F-Dur / A-KR83a / 54v
18. Menue(t) / F-Dur / A-KR83a / 54v
19. Men(uet) / F-Dur / A-KR83a / 55r
I have recorded following pieces from the Vienna manuscript MS 7763/92:
Prelude de Rochus Berhandtzky: http://youtu.be/EpoLLiq_Ic4
Sarabande in d minor de Rochus Berhandtzky: http://youtu.be/aZ2XqGwDXqQ
Sarabande in d minor de Rochus Berhandtzky: http://youtu.be/6jcQJ58es30
I have recorded following pieces from the Kremsmünster manuscript MS 83a:
Tombeau du feu son E. Monsgr le General Sereni Allemande de R. Berhandski in f minor: http://youtu.be/U5kGKWSKT_M
Sarabande in f minor de Rochus Berhandtzky for Baroque Lute: http://youtu.be/FhyAQCUOqQ0
Rondeau in f minor de Rochus Berhandtzky for Baroque Lute: http://youtu.be/OzgKBrAV6yg
I am very confident that more pieces can be found in sources from Munich (Bavaria, Germany) and Innsbruck (Tirol, Austria).
I have re-written / collected all so far known 19 pieces of Rochus Berhandtzky into an "Oeuvre de Berhandtzky" lute book which is now available for everyone from my baroque lute manuscript collection for free at:
http://www.scribd.com/doc/125748574/%C5%92uvre-de-Rochus-Berhandtzky
If you discover pieces from Rochus Berhandtzky, please let me know.
Kind regards, Bernhard (Vienna, Austria)